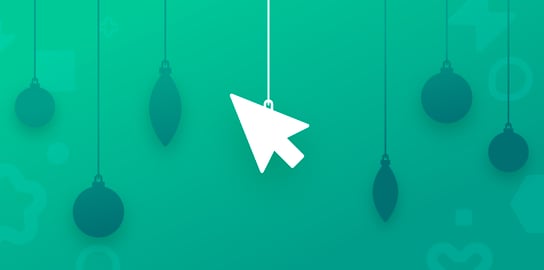 In a year when retailers are managing the most difficult supply chain we have seen for years, and Omicron is surging, it's clear we're not heading into a normal Christmas – again.
Ecommerce continues to adapt during this pandemic, with more stores launching creative promotions and finding new ways to engage their customers online when their in-person services have been considerably reduced.
To help you navigate the storm, here are some tips based on what we are learning from our clients that will help your seasonal campaign convert the millions of shoppers looking for gifts online over these next couple of weeks.
Online shopping needs to be fun, now more than ever
Christmas campaigns need to be fun if they're going to stand out from the sea of promotions at this time of year. Digital escapism from the seemingly endless barrage of bad news has led to customers seeking out shopping experiences that feel as good, if not better, than any experience they could get in-store. The phrase 'retailtainment' springs to mind – Marie Dollé published a great blog post earlier this year that showcased examples of shopping-entertainment.
Social shopping continues to gain traction online. TikTok's first live shopping event was hosted in the UK over two days last week. Featuring celebrity hosts, music, quizzes, users could buy beauty and fashion products directly from the social media platform, with built-in product descriptions and purchasing options. Events like this are just one of the ways creative companies are trying to tap into the Gen Z market.
2022 will see more ecommerce sites begin to turn their customer journey into more of a conversation, rather than one-sided transactions. If your target market includes the likes of Gen Z, you'll be missing out by not investigating these huge growth areas.
Keep copy on-brand everywhere
As your marketing efforts expand, make sure your copy is always on-brand no matter where customers can find you. Your tone of voice should feel consistent across social media channels, email marketing, on your website and in blog posts. There are a lot of third-party apps and extensions out there for ecommerce, some of which are extremely useful, but they can feel jarring to customers if they're obviously a separate entity from your brand. Focus on finding extensions you can adapt to align with your own tone of voice to ensure customers get a cohesive experience when they're dealing with you.
For example, custom copy can be used by Nibble to keep messages with users on-brand when they're negotiating personalised prices for your products. Negotiations work well with our default copy, of course, but some clients opt to personalise Nibble so it can highlight key product features in the chat, promote brand values, or simply talk to users with the same kind of unique language their brand may use in direct customer communications.
Products find people, people don't find products
Discovery commerce has changed how retailers can approach marketing products as gifts. Millions of users scroll Facebook and Instagram daily and see products they weren't even looking for, products they didn't even know existed – and subsequently feel compelled to investigate the brands behind products that catch their eye.
Ecommerce has therefore become less about meetings customer's needs, but anticipating them. If you've got a gift that's perfect for a certain kind of customer, it's not enough to rely on them (or their loved one) realising your product is the one they need. You need to go where your customers are and put your products right in front of their eyes. In fact, it's never been more vital to do this – research has shown 50% of Gen Z and 55% of 35-44 year olds are planning on doing this year's holiday shopping on their smartphones or tablets.
Alongside well-targeted sponsored advertising, don't overlook the potential of influencer marketing. Take the time to find out who the influencers are within your network – if there are individuals relevant to your product niche who have a loyal following, think how much exposure your brand could gain by partnering with them.
It's also crucial to personalise your website based on individual preferences and put the right products in front of customers visiting your store. You might want to highlight different products to different genders, age groups, and personalities – don't rely on your users to work out where the right products for them are on your site.
Lots of tools can help personalise your site, many of which work solely based on browsing actions without requiring logged-in customers. For example, Personify XP is able to instantly segment website visitors anonymously and adapt to meet their objectives and content preferences in real-time. Having recently won a Retail Tech Innovation Hub award for Technology Vendor of the Year 2021, they're a valuable GDPR-compliant personalisation tool.
Try new things to actively manage stock levels
Your current routine of promotions might be working well enough, but complacency is an ecommerce killer. By keeping your promotions varied you can effectively manage stock levels year-round, rather than waiting for the next sale season. Then, the holiday season becomes less about "waiting to shift stock" and more about, "what can we experiment with this time to develop strategies for the rest of the year?"
For example, we've had clients use Nibble before Christmas to sell older designs of specific products that otherwise would have to have been hugely blanket discounted. We've also had clients use Nibble over Black Friday to reinvent their entire ecommerce store into a place where customers can negotiate prices dynamically.
We've previously written a whole blog post on creating useful year-round campaigns after Black Friday, but the content there also applies to December promotions. By taking a more data-driven approach to sale seasons instead of focusing solely on how much stock you can shift in a limited time period, you can find ways to effectively manage stock year-round.
Interested in Nibble?