Nibble, the AI negotiation chatbot for ecommerce, won the Rising Star Award in the 2023 Deloitte Technology Fast 50.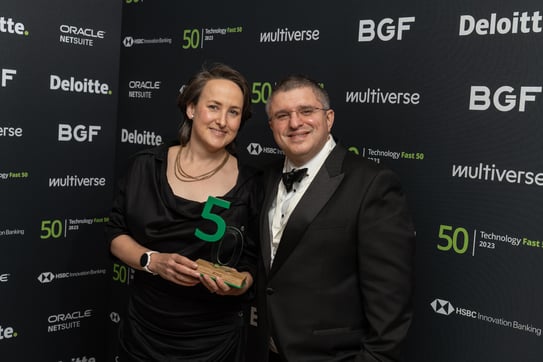 Nibble co-Founders Rosie Bailey and Jamie Ettedgui accepting the award
Fast 50 Rising Star Awards recognise the innovation and achievements of UK tech businesses who are leading the way and been in operation for less than four years. Previous years' Rising Stars include personalised nutrition plan provider Zoe and cyber security software giant and FTSE 250 member, DarkTrace.
Nibble was nominated by Business Growth Fund (BGF), UK & Ireland's most active and dynamic investor of equity capital in growth economy companies, based on Nibble's technical innovation and the speed and scale of the impact Nibble has had within the ecommerce industry.
Nibble is an AI negotiation chatbot, whose automated and entertaining negotiations have more than doubled conversion rates and significantly improved margins, customer engagement and AOV for retailers of all sizes, geographies and categories. Nibble is currently deployed on over 350 retailers' websites worldwide and performs over 30,000 negotiations every month, on basket sizes ranging from $5 to five-figures.




Rosie Bailey, CEO and
co-Founder of Nibble

"It is perhaps ironic that we received this award in November, during the height of Black Friday discounting."

"Black Friday is the epitome of the problem that Nibble solves, with its gruesomely deep discounting that cripples margins and artificially caps growth. And all the while, customers are being trained to expect better and better offers with every year. The cycle needs to be broken before more retailers are dragged down by it, and replaced with a return to win-win pricing."

Daina Spedding, Investor at Business Growth Fund

"Next-generation retail is digital and personalised, and Nibble is at the forefront of it. BGF is proud to recognise Nibble as Rising Star at Deloitte Fast 50 and we are looking forward to following your growth journey!"
See also:
Nibble wins 'Ecommerce Innovation of the Year' at UK eCommerce Awards 2023!
About the Deloitte UK Technology Fast 50
The Deloitte UK Technology Fast 50 is one of the UK's foremost technology award programmes. Now in its 26 th year, it is a ranking of the country's 50 fastest-growing technology companies, based on revenue growth over the last four years. The UK Fast 50 awards are all about growth driven by leading intellectual property and are a celebration of innovation and entrepreneurship. Previous winners have come from across the UK, are both large and small, and included some of the most dynamic players in all areas of technology, from IoT to BioTech, digital media technology to life sciences, FinTech to software and clean energy to telecommunications. For more information visit www.fast50.co.uk
The full list of this year's winners and winner breakdown by region and sector is available at www.fast50.co.uk
About Deloitte
In this press release references to "Deloitte" are references to one or more of Deloitte Touche Tohmatsu Limited ("DTTL") a UK private company limited by guarantee, and its network of member firms, each of which is a legally separate and independent entity. Please see deloitte.com/about for a detailed description of the legal structure of DTTL and its member firms.
Deloitte LLP is a subsidiary of Deloitte NSE LLP, which is a member firm of DTTL, and is among the UK's leading professional services firms.
The information contained in this press release is correct at the time of going to press.
For more information, please visit www.deloitte.co.uk. Member of Deloitte Touche Tohmatsu Limited
About Business Growth Fund
Since 2011, BGF has invested £3.5 billion in over 500 companies. Of all the sectors we invest in, technology accounts for the largest share in our portfolio.
We have backed over 100 technology businesses and provided close to £500 million of capital to support the growth plans of ambitious businesses across a range of technology sub-sectors such as mobile apps, managed services, cloud computing, climate tech, life sciences and much more.
With 16 offices across the UK and Ireland, BGF makes initial investments of between £1-20 million for a minority equity stake. We have worked with some of the UK's most exciting technology brands, from unicorns such as Gousto and Paddle to ground-breaking innovators such as Oxbotica (autonomous vehicles), AND Digital (cloud computing) and MyZone (wearable tech).
Technology remains an incredibly exciting sector and the BGF's investment team looks forward to backing many more innovative tech businesses in the years ahead.
Web: https://www.bgf.co.uk/ ¦ Twitter: @BGFinvestments ¦ LinkedIn: BGF
Interested in Nibble?