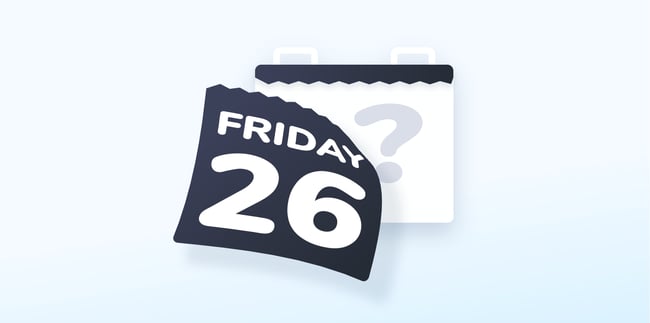 Black Friday is over, and hopefully you're now looking at less stock and more profits. If your campaign was a runaway success, it's time to look at how you can spread out the success of these promotions (and mitigate the stress involved) so you're not left waiting for the next big discounting holiday. If your campaign didn't perform as expected, you still have a month to end the year on a high note.
Regardless of how your campaign performed, this post will show you what you can learn from Black Friday and how your future campaigns can harvest similar results throughout the year.
Analyse your Black Friday results
Whatever the outcome of your Black Friday campaign, you will have valuable data you can interpret and incorporate into future campaigns immediately. Look at your sales data and use it to influence your December promotions:
Did one of your products sell far better than anything else?

This in-demand product is popular for a reason, so rather than shooting them back up to full price, consider leaving them discounted in the lead-up to Christmas, or bundling it with other products to increase exposure to your brand
Did one product do well even without advertising?

If one product without advertising converted just as well as another that you promoted heavily, think how much it could convert with some press behind it.
Did one product fail to perform as expected?

Perhaps it got a lot of page visits, but hit a low conversion rate. Something's wrong here, so take a look – is the product page conveying all the information you need it to? Is the product missing any key features? Most importantly, is it even priced correctly? See what area you need to improve; whether that's in the content, in the product itself, or in adjusting the price by discounting further or letting customers offer a price point they would purchase at.
All of this data can give you valuable pricing insights. In the lead-up to Black Friday (and the days after) you may have to adapt product prices multiple times hoping to find a sweet spot that gets customers to convert without having to sacrifice your margins. Whilst figuring out this ideal price manually through trial-and-error is possible, there are AI tools out there you can use to reliably learn what price customers are willing to pay for each of your products - Nibble is one of those tools.
Use ad campaign data from Black Friday to influence future advertising
Besides looking at how your products themselves performed over Black Friday, you should also assess how your marketing efforts performed. How much traffic did your sponsored Instagram ads send to your site, compared to Google ads? How did these perform against the blog posts you created, or your own organic social media efforts – and crucially, how much time/financial investment did these different sources require compared to the results they gave?
As well as looking at traffic sources overall, focus on the campaigns that sent you the most conversions. These campaigns are targeting the people who will actually buy your products, so you want to drill down on these platforms further. Perhaps plenty of people scrolling Instagram clicked on your ad, but how many of those actually purchased? You might find your Google ads, for instance, converted more people despite your Instagram generating more clicks at face-value.
This is a perfect opportunity to see where your converting customers are and invest heavier into these advertising sources throughout the rest of the year, putting more of your marketing budget into channels that will be the most cost-effective.
Use time-sensitive discounting strategies year-round
Black Friday works because of the sense of urgency – deals are here now and they're only going to stick around for the day. The mere presence of countdown timers on a product page has been shown to increase conversion rates by as much as 8.6%. Use a variety of time-sensitive campaigns throughout the year to find out what your customers respond to:
Flash sales that only last a day (or even a few hours)

Promotions that offer a bundle for one-week only, including a prominent countdown

Tools like Nibble that can offer a discounted price specific to one page visit

Tie your countdown into your inventory levels to alert customers when stock is getting low

Incorporate a timer to order within the next-day delivery window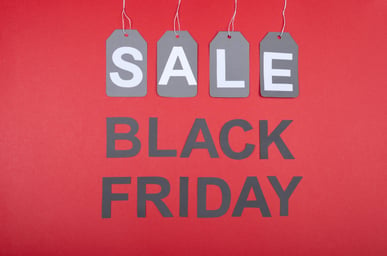 Keep engaged with customers who visited over Black Friday
Look at what type of customers visited your site over Black Friday – you likely got a mixture of returning customers and brand-new ones. What's the use in all that effort gaining these customers during the promotions if you're just going to forget about them afterwards and treat them like any other customers? Now is the time to engage proactively with them.
Conversational Commerce can thrive here. Use email outreach, social media, live-chat features, AI chatbots... There are so many options you can use to engage these new customers and show them what else you offer, how you treat loyal customers, and what else they can expect from your brand.
For returning customers who converted over BFCM, look at what promotions made these customers convert and think about how you could mimic the special prices that brought these loyal customers back to you without having to wait for a discounting holiday. There are tools you can use, like Nibble, to give loyal customers personalised limited-time discounts year-round. The key here is personalisation – tailor your offers to specific user cohorts and don't hide the fact this is an offer delivered just for them, rather than en masse to every single customer.
Target your abandoned carts from Black Friday
The biggest discounting weekend of the year will have brought new visitors to your store, but many of them will have filled up their basket and gone elsewhere before they followed through with the checkout. These sales are not lost – consider targeting these users with one final offer. You could send them a magic link to one final discount, a personalised price that shows them you're thinking of them and are willing to extend an offer to get their business. This isn't just a case of selling off your products at a discount to get the conversion; these customers will remember your personalised approach and return in the future.
If you aren't collecting email addresses before users complete the checkout process, why not? Our data has shown 41.8% of Nibble users will happily provide their email address in order to secure a deal before they plan to check out when prompted by a chatbot.
Your next Black Friday shouldn't be the same
Black Friday isn't just a weekend anymore, it's expanding and becoming week(s) of potential stress for ecommerce sites globally. The answer is not to ignore Black Friday altogether and bury your head in the sand, nor is it to succumb to stressful flash discounting campaigns every November. Use Black Friday as a learning experience and you can harvest the results throughout the whole year at a much more manageable scale.
What's even better is if you can implement automated versions of discounting methods that tap into Black Friday's sense of urgency year-round. Nibble is just one way you can achieve this, by opening up a fun, fast discussion on the product page and delivering a 60-second negotiation that awards shoppers a personalised price.
No matter how your 2021 Black Friday efforts performed, remember to use the data you've gathered to drive future campaigns in the coming months. Then, go into Black Friday 2022 with a new mindset – not of solely driving conversion, but of also using it as an opportunity to learn about your customers and build long-term relationships with them.
Interested in Nibble?