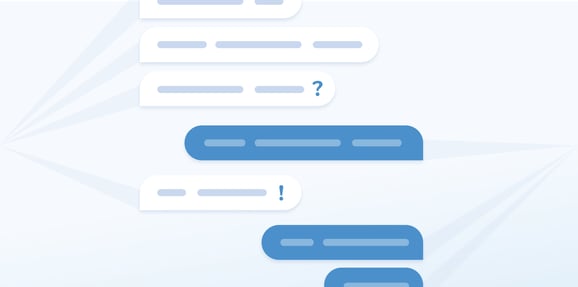 Why is conversational commerce actually useful for eCommerce?

The importance of language in conversational design

How to get conversational AI on your own website

easily
There's change afoot in ecommerce. Everyone's looking into how conversational designs can work for them in creative ways. Any time you don't need visual browsing, there's an opportunity for conversational design. Think of the fast-food industry for example: if you're craving a Big Mac, you don't need a picture in front of you to know what you're going to get. Companies like McDonalds and Nando's are quickly researching how to let Alexa place your next order for a chicken burger.
In a world more reliant on ecommerce than ever, conversational commerce can no longer be ignored. The conversational AI market is expected to hit a value of £13.9 billion by 2025 – if businesses don't utilise it soon, they'll get left in the dust. It's challenging to develop, but the benefits are huge. You can increase conversion, boost engagement and gain unparalleled customer insights.
Conversational design involves looking at human conversations as a baseline for our interactions with digital services. By making digital interactions easy and intuitive, ecommerce can finally feel less robotic and more personal. Crucially, conversational AI has to be useful for your site, and not feel like a gimmick. It's there to serve a specific purpose, for example:
Supplying information faster than link-hunting

Reducing reliance on live agents

Gathering feedback

Letting users negotiate on products they're interested in
When conversational commerce works well – and when it doesn't
Chatbots provide an opportunity to reinforce your brand messaging and increase customer engagement. Bots with some personality make interactions with your brand feel fun and effortless – but make sure that personality isn't too overpowering! We've found Nibble users appreciate light-hearted humour; but use it sparingly, and make sure no jokes can be taken the wrong way.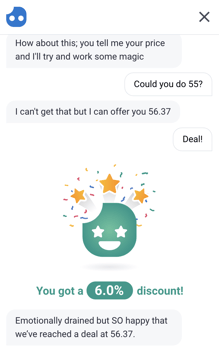 Conversations should feel co-operative and meaningful, with a clear goal for both the retailer and consumer. Your language should be concise and polite. Above all, make sure your wording is always obvious. I speak from experience – as the new copywriter at Nibble HQ, I've quickly realised sarcasm and rhetorical questions do not translate well with two types of people: 5 year olds, and Nibble users.
Conversational commerce doesn't work when the experience feels clunky. If users feel like they have to carry the conversation, they won't. Aim to emulate real human conversations: interactions should be turn-based, with obvious cues when it is the users turn to speak – and what information is being asked of them. A successful interaction is quick, natural, and helps organisations meet their goals whilst giving customers a memorable experience.
One of the biggest potential pitfalls in conversational commerce are mishandled intents. Understanding intent with imperfect information can be hard enough for humans, let alone a machine! Intent needs to be understood and translated to give an appropriate response. For instance, there are hundreds of ways a user could ask for a discount – "Would you take £10," "Could you do £10," "How about £10," and so-on. You need to anticipate as many of these phrases as you can to ensure a seamless experience for users.
Using conversational AI to find out what your customers really want
Monitoring your user chats lets you spot mishandled intents early and stop them from reappearing. These chats can also help you to streamline how smoothly your system can get a user back on track once they do encounter an error; ensuring your conversation still feels natural even when it hits a snag.
Looking at user chats also provides a goldmine of valuable qualitative data that lets you see what users want and anticipate further use cases. This was especially useful for Nibble during our campaign with Lucky Voice. We noticed 20% of users negotiating deals on karaoke kits asked if they could get further discounts if they bought an extra microphone. This information was used to add bundles to Nibble and allow customers to sweeten a deal; improving average order value for Lucky Voice and giving customers access to discount bundles when they wanted them most, with minimal effort.
Getting conversational commerce on your own website
If you want conversational commerce on your site but don't know how to get it, or don't want the hassle of configuring your own, there are simple solutions like Shopify apps. Nibble is an established AI negotiation chatbot – if you're on Shopify, you can install it within 5 minutes via the Shopify App Store. Nibble eliminates the need for voucher codes or blanket discounting by letting users negotiate their own price for products with a fun, straightforward chatbot. There's no need for users to log in, and it provides a rewarding, memorable experience. You can test Nibble out for yourself here.
Interested in Nibble?