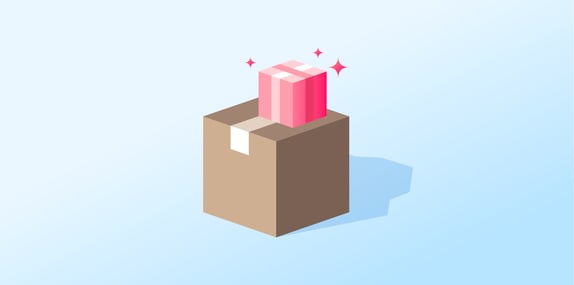 Why is a gift with purchase campaign better than blanket discounting?

How to make sure your gift with purchase campaign actually works

Can you help us test a brand-new GWP Nibble feature?
Sometimes someone needs that final 'nudge' to convert when shopping online, and a discount isn't enough. Something as simple as a small gift offered alongside a discounted product can go a long way. Welcome to the world of the gift with purchase campaign.
Gifts with purchases are an excellent way to compete in a crowded market and boost your visibility. They increase conversion rates by helping customers feel like they are getting more value out of their purchases with you – why would they buy a similar product elsewhere if yours comes with a free added bonus? These time-sensitive campaigns are also more likely to trigger impulse purchases. Tap into that FOMO (fear of missing out) feeling to make sales you'd otherwise miss out on.
Why run a GWP campaign when I can just discount?
If you do it right, a GWP campaign can be both less costly than a large discount campaign and often more effective. For example, if the gift you're offering is only worth 10% of the product you're offering it on, you're making more revenue than offering a solid 20% discount on the product itself.
With gift with purchase campaigns, your customer enjoys getting something for free and you avoid damaging the perceived value of your brand. If you're routinely blanket discounting your sale items by 20% and plastering sale banners over your website, customers will assume your products aren't worth as much to begin with.
That's not to say you should stop discounting. A well-thought-out gift with purchase campaign used in synergy with selective discounting is a recipe for conversion.
Choose the right gift to increase conversion
Remember, in a campaign like this your gift has two goals: to add value to your product and build a purchasing incentive.
Choose your gift carefully. It needs to be in line with the interests of your customer, complement their purchase and add value in order to work as an incentive. Gift a mug with your tea bags; pens with your notebook; a carry-on bag with your suitcase. The quality of the gift should also reflect how much the customer is spending – if they're spending £1,500 on a sofa, will a £20 fabric cleaning kit really make them decide to purchase? No, but £250 off a footstool will because it adds value and complements the sofa well.
There's also a great side effect from a gift with purchase promotion: it encourages customer loyalty. Not only do you create a positive, memorable experience – you're exposing your customers (and their friends and family) to more of your products; products they may not have ordinarily purchased on their own. Your customer got £250 off a high-quality foot stool with their sofa? Guess where they'll be heading first the next time they need home furniture. 😉
Be wary of being too predictable with these campaigns, however. If you offer gifts with the same kinds of products each year, your customers will just wait for you to run that promotion again; make sure your promotions feel special and unique. These kinds of campaigns work because they have a sense of urgency and exclusivity – if you lose that, you're losing what makes a GWP campaign thrive.
Sweetening the deal with a new feature in our negotiation chatbot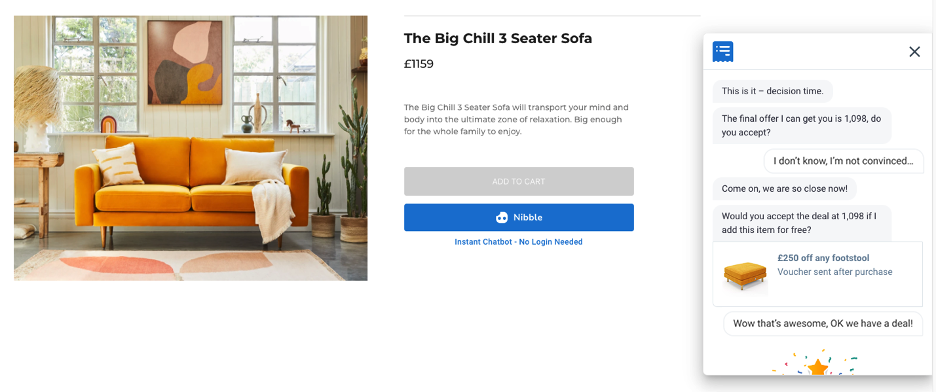 We've just launched our own gift with purchase system for Nibble, nicknamed 'Sweeteners'. If it seems like a user needs one final nudge to make the sale, Nibble can sweeten the deal by offering a pre-selected gift directly to that user. This makes their negotiation even more personal and time-sensitive, and gives your customers a memorable experience.
Sweeteners are a brand-new feature for Nibble, and we're eager to use them in a campaign with a client. If you're looking for a new way to boost conversion and would be interested in trialling Nibble with us, contact us at hello@nibble.team or fill out the form below.