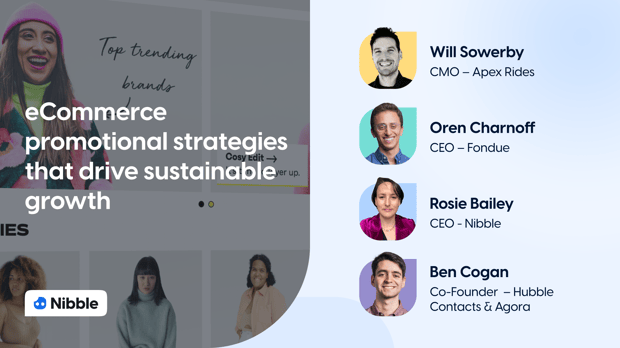 Four ideas from leading ecommerce experts on how to create and deliver promotional strategies that drive sustainable growth, and the key strategies they use to fuel their success
Navigating the endless landscape of ecommerce promotional strategies can be a daunting task. How can you ensure that your strategy not only drives conversion and loyalty, but also fosters sustainable growth without encouraging a 'race to the bottom'?
Our recent webinar (which you can watch here) brought together a panel of ecommerce experts who debated this and shared what has, and hasn't, worked for them, and discussed how brands can use promotions that don't race to the bottom, discount unnecessarily, or damage their brand.
We've distilled the four key tips you need to know from our panel discussion featuring:
Our four top takeaways:
#1 The art of storytelling
Clever storytelling, in line with your brand values, can bring a once-simple promotion to life and drive both customer engagement and sales.
Will Sowerby shared how Domino's transformed their usual winter offer into a compelling narrative: in February – March, when UK families are locked away from the winter weather, Domino's launched an ad campaign for their "Winter Survival Kit", turning their ordinary '2 Medium Pizzas + 1 Side' bundle into a visual story featuring Domino's delivery pushing through a winter storm to feed a family. By injecting their brand values and positioning into the promotion and wrapping it in a creative package, the "2 Mediums + 1 Side" bundle achieved 23% more sales versus the previous year.
At Nibble, we take your tone of voice and inject it into the chat, ensuring promotions are always delivered both creatively and on-brand. Sometimes, this even encourages customers to use your own language back at you – like our work with the global beauty brand Iconic and this customer of theirs below!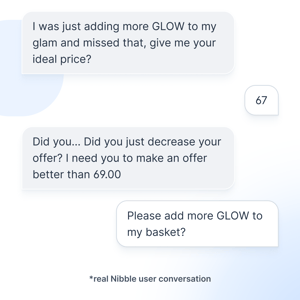 #2 Navigating the discounting dilemma
Data analysis by Fondue revealed an escalating trend in pop-up discounts to entice email subscriptions, with an increase in the mean discount offered going from 13% in 2021 to 22% in 2023. As Oren Charnoff put it, "discounts are going up," and according to Rosie Bailey, 2023 looks set to be the year of the Finance Director who will tell their brands to rein in their promotions and discount smarter, not harder.
We have seen a similar discounting trend in our own data - revealed in last month's Table Talk pricing trends session - where discounting has been gradually increasing since January 2023. As Rosie explained in that presentation, retailers felt "The FD Effect" in January as they demanded a focus on profitability and higher pricing after a tough 2022.
But Q1 sales pressures have led to a continuous trend of greater discounting since - unfortunately, at exactly the same moment that our negotiations show higher pricing expectations from consumers. Unknown to them, retailers are dropping their prices just when their customers are willing to pay more.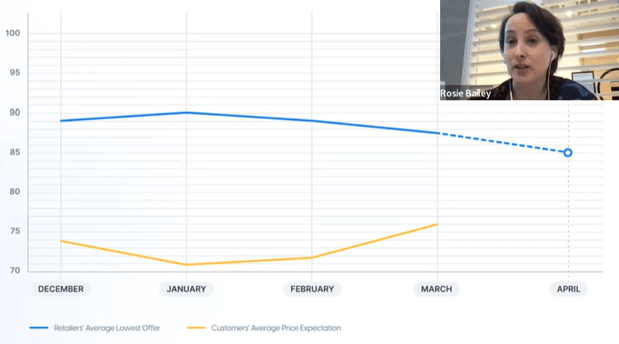 #3 Beyond the red SALE banner, keep it engaging
Promotions don't need to be a straight-forward price slash. As Will Sowerby pointed out, every customer interaction is an opportunity to build your brand. So why not make your promotions an extension of your brand story? Customers have adapted to look past a red banner, so you need to stand out to run an effective promotion.
You can have a lot more fun with promotions than you think, instead of simply 'going on sale' with a big red banner. Make your message land by wrapping it in an idea – your brand is how you make customers like you, so think about how you can communicate your brand purpose via your promotions.
At Nibble, we inject brand values directly into chats with Nibble by using Brand Value Statements. Give Nibble 5 reasons to support your brand, and it will deploy them in the chat strategically when most needed to close the sale.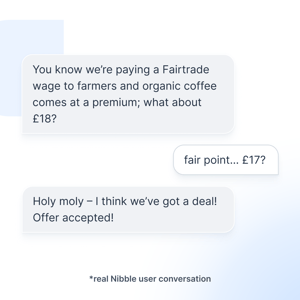 #4 Realising the power of your promotions
Promotions offer vastly untapped potential to elevate your brand, rather than damage it, says Ben Cogan. While product quality is still essential, optimizing your promotional strategy can deliver significant gains for your brand both in the short and long-term. The key is astute use of promotions that prevent brand dilution while still appealing to 2023's deal-seeking consumers.
One webinar attendee noted that in America, promotions have become so extreme around the holiday season, and with constant holidays, that many retailers are now using things like free shipping in place of traditional promotions in an attempt not to water down their brand.
At Nibble, we make sure customers feel listened to at scale, and satisfy deal-hungry customers with a natural language chat that gives them a special deal and stops you from damaging your brand with vocal discounting.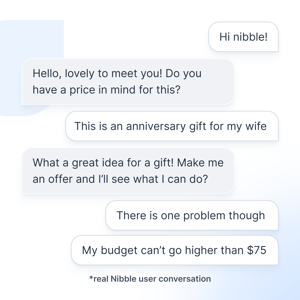 Summary
eCommerce demands innovation and adaptable promotional strategies. Through a clever blend of storytelling, brand-integrated promotions, and intelligent discounting that focuses on value, rather than price, brands can drive sustainable growth.
Your promotional strategies should not just be about a discount percentage. They should encapsulate your brand's narrative and values, and take advantage of the opportunity to surprise and delight your customers – with the right balance of an enticing offer that is still profitable. How to do all of this? Getting an AI negotiation chatbot is a smart way to start…
Interested in Nibble?