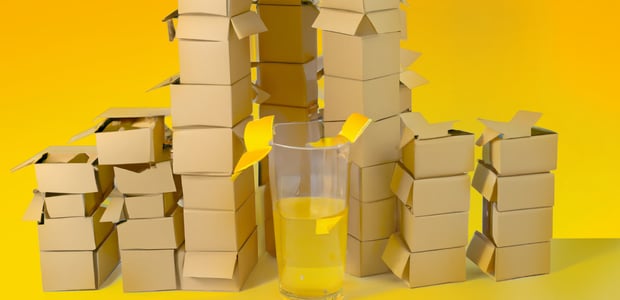 Excess inventory eats away at team morale as well as your finances.
Here are the top 3 most innovative ways that brands we love took to win with customers as well as shifting stock – just pushing deeper and deeper discounts wasn't one of them.
1. Ban the bargain bin – find the positive!
One custom jeweller we met was stuck with a number of bespoke pieces that had unfortunately been returned. Their core proposition was made to order craftsmanship, so lead times were typically weeks. As a result, the returned items addressed the greatest obstacle to custom orders – long waits – and formed a 'quick delivery' section of their website where they could clear the stock, recover the cash and stay true to the brand.
2. Boosted basket sizes
One way to recoup the discount losses from promoting excess inventory is to focus on upsell and driving larger AOV. We often find that the "win" of a discounted item makes customers more inclined to look wider across the site, including at full-price items.
In fact, one of our customers noticed that more than 50% of baskets that began with a negotiated item through a Nibble negotiation also contained a full-price item. Others have even positioned negotiation as a benefit that was only 'unlocked' once basket sizes contained one clearance item and had reached certain values.
3. Created disproportionate demand through "exclusivity" messaging (and a bit of fun)
After a rebrand, one of our spirits retailer customers was stuck with hundreds of old brand bottles that couldn't be sold for full price on the main site. So they created an outlet section and turned it to their advantage: "It's the same gin you love, just gathering dust in our warehouse with the wrong label on it!"
They repositioned the items as "limited edition" bottles and offered their loyal customers a special chance to negotiate their own price with Nibble. With this gamification, they engaged their customers to their brand values (organic ingredients and a B corporation) and quickly cleared the old stock, with substantially higher open rates on the email campaign and much higher margins than would have been achieved with a voucher code.
The common thread running through all these examples… It doesn't have to be one price for all
Most retailers combat excess inventory with large discounts. But most customers considering clearance stock will not need such a deep discount to be encouraged to purchase. Well-crafted and values-driven messaging will re-engage your customers and remind them why they love your brand.
That final nudge can then come from a smaller discount delivered through an engaging, fun, differentiated experience, that echoes the brand values customers believe in – culminating with a price point that both sides are happy with.
What next?
To learn more about how to build promotion strategies the right way, then check out our blog on the Promotions that get people excited again.
Or, to find out more about global trends in pricing and discounting strategy - including regional and category breakdowns - then sign up for the next Nibble Table Talk webinar.
Interested in Nibble?