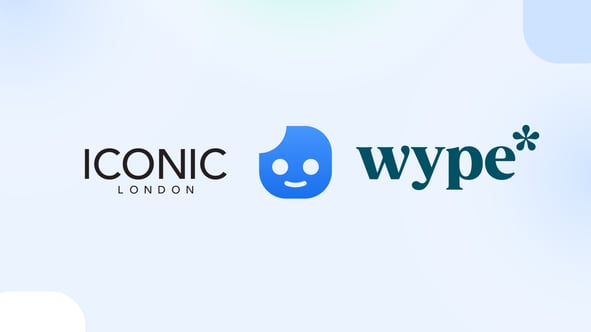 Learn the stories behind how Nibble helped brands improve their AOV by more than 50% with single digit discounts.
eCommerce stores are under pressure to increase Average Order Values (AOVs) without huge markdowns and blanket sales – but when it comes to online shopping, everyone is after a good deal. What if these deals could be a win-win for both the customer and the brand?
Nibble clients are using its AOV solution to personally encourage their customers to reach a cart threshold—either a total cart value, or a certain number of items at a minimum value—and suggest products in-chat to help shoppers reach this threshold and build their own perfect bundles before getting a special deal in a fast, fun chat.
This is a chat not just about price – it's about delivering value, preserving brand identity, and ensuring the customer feels engaged and valued.
Let's delve into how Nibble has recently helped two clients—Iconic and Wype—to enhance their customer engagement and boost their Average Order Values.
On-brand beauty promotions deliver +50% AOV for Iconic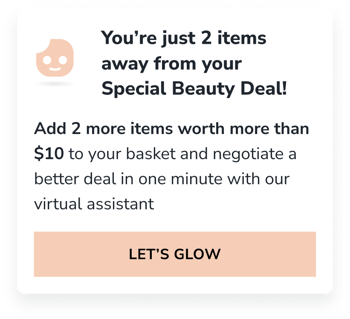 Iconic London is a global beauty brand selling vegan, cruelty-free premium makeup. They wanted to raise their AOV without resorting to deep discounting – enter Nibble, deployed in the cart drawer to suggest products in-chat and encourage customers to reach a minimum spend for a unique deal.
Iconic has a playful tone of voice carefully crafted for their loyal customer base. Any promotion they run has to be on-brand – so Nibble's copy was customized appropriately, calling customers 'babe' and offering them a serious glow-up with shimmering makeup glam! Their customers loved this, even using Iconic language back at Nibble in playful conversations that engaged and converted.
Nibble achieved an 'Iconic' (😉) +50% in AOV, with discounts of <10% on average. This delivered a great margin saving to Iconic on top of the improved AOV.
"Nibble's fun chats in our brand voice have delivered higher AOVs for lower discounts; most importantly, our customers love it. Unique insights from Nibble will continue to inform our 2023 promotional strategy."
Kathleen Loftus, Global Digital Director at Iconic London
One of Nibble's newest features, Brand Value Statements, was used to remind customers in-chat why they love Iconic: such as being vegan and cruelty-free. These chats focused on values, not just price, to convert at great margins and foster long-term relationships with customers who would come back knowing what the brand stood for.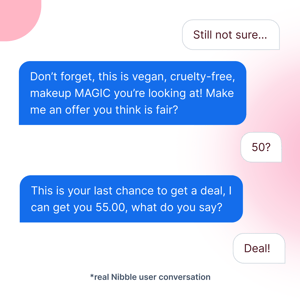 Better bundles and smarter discounts for Wype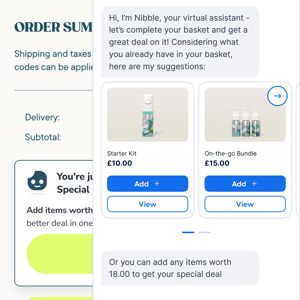 Wype is a sustainable personal care brand that creates innovative products to keep both its customers and the planet pristine – available either on subscription or in bundles. Customers can also shop for single items – but then shipping costs become disproportionate.
Nibble therefore appeared only where most-needed to encourage single-item shoppers to build custom bundles in exchange for the chance to get their own special deal. 30% of Wype customers engaged with Nibble to add extra items to their cart.
As illustrated in the picture, Nibble appeared in the cart drawer with product recommendations inside the chat before allowing customers to negotiate for a unique deal.
"Nibble is a really engaging way for our customers to get a great deal while also improving our AOV. It's an effective 'always on' campaign that has been driving great results for us!"
Eli Khrapko, COO at Wype
Much like Iconic, deals only required <10% discount to close, and AOV increased 67%. Now that is a win-win, with customers building their own perfect bundles and Wype enjoying +4.9% in contribution margin.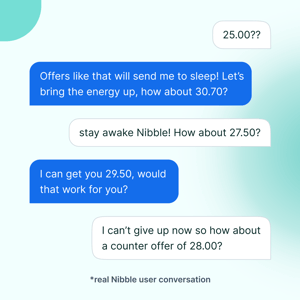 The TL;DR Summary
In an eCommerce landscape increasingly dominated by impersonal transactions, AI Negotiation is a refreshing and effective alternative to blanket promotions. By engaging customers in one-to-one negotiations, Nibble is helping brands like Iconic and Wype to deliver personalized promotions that not only increase AOV, but also enhance customer loyalty and satisfaction. The success in these case studies is a testament to the power of personalized, on-brand promotions.
This conversational approach to bundle building allows brands to preserve their margins and brand identity while improving AOV at the same time. If you're looking for a solution that can deliver these benefits, it's time to give AI Negotiation a try. After all, who doesn't love a win-win deal?
What next?
For more on Brand Value Statements and how Nibble uses them to reinforce your brand values and protect your margin, look at our announcement of the feature here.
Or to see more ways Nibble customers are using AI Negotiation to solve their problems and clear stock, improve conversion and protect their margin, take a look at our Customers page.
Interested in Nibble?