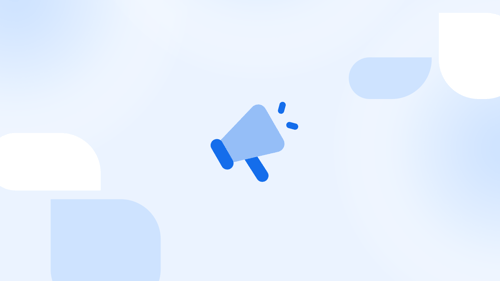 What would your best salesperson say to an undecided customer? "This looks great on you, and you'll love that the fabric is sustainably sourced" or perhaps "Don't forget, you'll get a warranty with this and 30 days for free returns."
Previously, these persuasive pitches were only possible in-store, delivered by skilled salespeople, but Nibble's powerful new feature—supported by generative AI—changes this.
Nibble's chats can now be instantly personalised to include compelling brand-specific reasons to buy your product, delivered at the exact moment undecided customers pause on the product page. The result is a personalised conversation with every shopper in which Nibble loves and defends your brand as much as you do.
What are Brand Value Statements?
Brand Value Statements communicate a retailer's unique benefits directly within a negotiation chat, reminding the customer why they already love the brand and gently defending the product's price.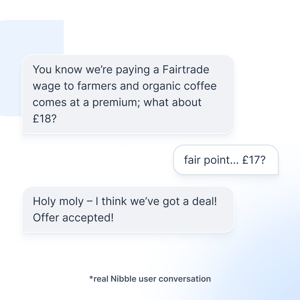 Retailers can write up to five Brand Value Statements for Nibble to use, which are deployed in the chat at exactly the right time. Nibble uses them to justify an offer it has made; to give a reason to accept a final offer; or to request a more reasonable offer from a shopper who is making lowball offers.
The science behind Brand Value Statements
Brand Value Statements deploy fundamental negotiation principles. Did you know, negotiation is one of the most well-researched areas of behavioural science? This research shows giving a reason for a proposal improves the chances of it being accepted.
You can see this in your everyday life. Picture yourself waiting for your morning coffee in Starbucks and someone asks to jump the queue… what do you say? Maybe it's 'no' but you're much more likely to let someone cut the line if they provide a reason such as "I've had a terrible morning and I'm running really late for a meeting, would you mind?"
When it comes to ecommerce, consumers are more likely to engage and buy from brands that resonate with their personal values. We see this as especially true for sustainable brands, B-corps and with Gen Z shoppers. By empowering Nibble to communicate your brand values when most needed, you're persuading undecided customers to buy from you with bespoke messages delivered at the point of purchase.
Crucially, this is not about overwhelming customers with deals and promotions, nor is it manipulating your shoppers to buy using fake urgency; it's about fostering a genuine connection with them based on shared values. As a result, in AB tests, we have seen Brand Value Statements improve conversion for our clients by up to 20%.
Using ChatGPT's generative AI to create Brand Value Statements
To assist retailers with their Brand Value Statements, Nibble has integrated with ChatGPT to make their creation easy and intuitive. Simply paste the text from your 'About Us' page or a company biography into Nibble's retailer panel, and Nibble will use generative AI to instantly write the five most unique, engaging and persuasive statements that authentically represent your brand values, ready for you to review, edit if necessary and deploy.
This new feature is our first client facing use of generative AI, allowing us to personalise Nibble for our clients at a scale which would not have been previously possible. Despite the excitement and potential of this technology, it is important to note that it is Nibble and not Chat-GPT talking to every shopper. At Nibble we see Generative AI as an awesome co-pilot but not as a decision maker, and the negotiation will always be controlled by Nibble's technology and underpinned by proprietary NLU models and algorithms. This allows us to ensure consistency and predictability in the results we promise to our clients, be they better margins, improved conversion or higher AOVs.
Brand Value Statements are a hugely important step in our negotiation technology which continues to build on academic negotiation principles with proven efficacy. Personalising Nibble's conversation for every retailer, using their own brand voice, delivers win-win outcomes underpinned by value, not just price.
What Next?
To get Nibble on your own website, or if you'd like a free call to find out more, contact us here.
Or, catch us in-person at IRX Birmingham or Seamless Dubai at the end of May showing off this tech!
Interested in Nibble?