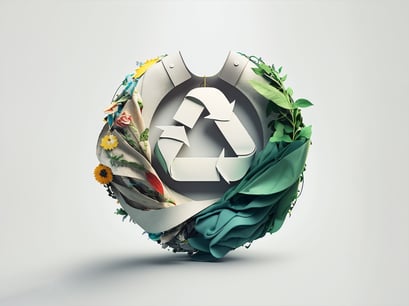 Both the popularity and the consumer opinion towards the resale market has shifted dramatically in recent years, with more and more consumers turning to second-hand shopping as a means of both saving money and reducing their environmental impact. At Shoptalk 2023, representatives from thredUP, eBay, and AptDeco shared their perspectives on the resale industry and how it's evolving to meet changing consumer demands. In this post, we'll summarise their key insights and explore what they mean for the future of resale.
Shifting attitudes on resale apparel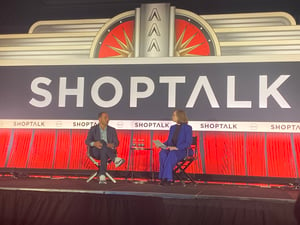 In the past, buying second-hand was often stigmatised as a sign of financial hardship, or even lack of taste – but that perception has now turned around. Anthony Marino, President of thredUP, says the attitude towards resale has shifted from stigma to status. People are proud of buying second-hand goods, particularly younger generations for whom "second-hand is second nature." Social media platforms like TikTok make it easy for them to share their thrift store finds and have popularised thrifting, making it an aspirational activity – even turning it into a kind of sport for Gen Z. The clothing resale market is growing 16x faster than the broader retail clothing sector, and 1 in 5 items in thredUP customers' closets will be secondhand by 2031.
As the stigma around resale fades away, it's becoming a viable alternative to fast fashion and overconsumption. Conscious consumers are aware of the serious environmental issues caused by overproduction and overconsumption, and buying second-hand is a way to reduce waste and extend the lifespan of existing products. But brands are also recognising the potential of resale – as retailers grapple with excess inventory, they're seeing resale as a viable solution. Marino says "resale as a service" platforms like thredUP's can help brands define a resale strategy and take steps towards a more sustainable future.
Resale in furniture: a $22 billion opportunity
The used furniture market is now growing three times faster than the new furniture market, with furniture resale platforms like AptDeco leading the charge. Reham Fagiri, AptDeco Co-Founder & CEO, discussed the opportunities presented by furniture resale. With Craigslist feeling unsafe, awkward, and unreliable, AptDeco removes friction in the buying/selling process and offers a more streamlined, user-friendly experience, particularly when it comes to logistics. Getting furniture from point A to point B can be a headache, especially for individual sellers. AptDeco tackles this by providing a 'no-warehousing' service that connects sellers with buyers directly and handles all pick-up and delivery. They're now not only making furniture resale easier for consumers, but also reducing waste. In the US alone, there are 12 million tons of landfill waste from furniture each year.
The furniture resale market is also becoming more profitable for brands that partner with resale platforms. Fagiri noted that the market is projected to be worth $22 billion by 2025, and there's a lot of profit to be made for those who enter early. By analysing consumer behaviour and trends, AptDeco can share valuable data with their partners to help brands optimize their pricing and inventory management strategies.
How eBay Refurbished is tackling luxury apparel and electronics resale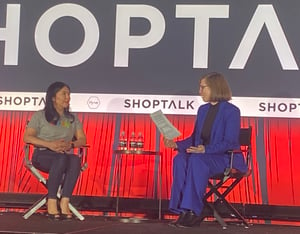 eBay has been a major player in the online resale market for decades, and they're continuing to innovate in response to changing consumer demands. Mari Corella, General Manager of Home & Hard Goods at eBay, discussed the company's foray into the electronics resale market: the eBay Refurbished program is a means of offering consumers gently used electronics at a discounted price. Corella highlighted how eBay has addressed some of the concerns consumers have when it comes to buying refurbished products. eBay works only with vetted brands on the program to ensure that they offer quality products, with brands being continually monitored to maintain these standards. They also have an authenticity program for luxury apparel, and for electronics, they have guarantees ranging from 30-days to one-year to ensure that the product works properly.
One of the biggest challenges facing eBay within resale is product presentation and quality. With 1.7 billion listings live at any time, it can be difficult to ensure that each product is accurately described and presented. To address this, eBay provides descriptive text and explanatory photos for each condition label, so buyers can find the quality that is right for them. After all, what constitutes "very good" condition to one person may mean something else entirely to another. eBay also allows their brand partners on the program to control their store interface (to an extent), allowing some brands to populate their page with relevant logos and imagery, while letting others focus solely on the resale products.
Key resale takeaways from Shoptalk 2023
While resale is a growing market, it's not without its challenges. As Marino from thredUP pointed out, it's going to take time to reduce overproduction and get more brands to adopt a resale strategy. But change is happening, and brands are starting to take steps in the right direction – with the aid of companies like thredUP helping brands define a resale strategy, AptDeco providing retailers with resale data insights, and eBay helping to bring resale to the masses. Through effective partnerships, retailers can tap into the potential of resale and benefit from it.
Now that general perception of resale has shifted, brands need to find ways to integrate resale into their business models and meet the growing demand for sustainable products. By adopting circular business models and leveraging data and technology, companies can create a more sustainable future while also driving profitability.
What next?
To learn more about how the resale (or 'recommerce') industry needs to be able to scale to meet growing demand, then check out our blog here.
Or, to find out more about global trends in pricing and discounting strategy - including regional and category breakdowns - then sign up for the next Nibble Table Talk webinar.
Interested in Nibble?