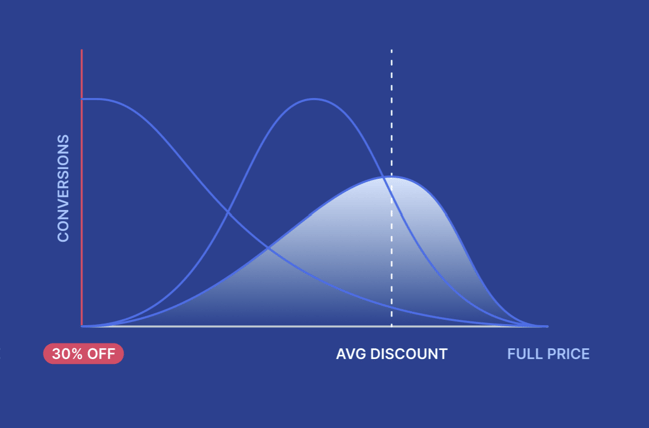 Despite being the most generous with discounts globally, US retailers are three times further away from consumers' price expectations than they were in January 2023 as US consumers suddenly now expect 30% discounts while retailers remain willing to only offer 17% off full price.
SHOPTALK, LAS VEGAS, 26th March 2023: Nibble, the AI negotiation chatbot for ecommerce, has revealed that the gap between US retailers' maximum promotional discounts and consumers' discounting expectations more than tripled from January to February 2023, with US consumers now expecting 30% off listed prices, nearly double the discount that retailers can accept.
February 2023 pricing and discounting insights from Nibble:
US online retailers' average maximum discount has remained reasonably stable for the last 8 months at 17%, only fluctuating within a range of 4 percentage points.





Compared to other regions, US retailers are the most generous with their discounts: retailers in EMEA offer only 15% and in Asia only 13%.
Meanwhile, US consumers have been expecting gradually greater discounts ever since October 2022. But in February 2023, there was a dramatic jump in expectations from 21% to 30% discounts off marked prices – nearly double retailers' maximum tolerance.


The net effect is that the discount difference between retailers and consumers in the US more than tripled from January to February 2023 and is the greatest gap recorded.


The disparity varies by sector and is widest for larger AOVs and highly discretionary purchases; Jewellery for example, suffers the highest consumer discount expectations (38%) and the greatest consumer-retailer gap – 18 percentage points
These insights are derived from the 30,000+ 1-1 conversations Nibble's AI chatbot has every month with consumers across 43 countries, assessing their sentiment towards pricing and promotions and negotiating on purchases ranging from sub-$10 to $1000s. This creates the world's only continuously updated dataset of consumers' unfiltered and honest human reactions to online retailers' pricing, uniquely gathered right at the point-of-sale.


This data is released every month in a special 30-minute live presentation - Nibble Table Talk - including what the latest negotiations with real customers show about current pricing and discounting trends, broken down by category, geography, AOV and more.
The Pricing Gap
Rosie Bailey, CEO and co-Founder of Nibble

"The sad truth is that this pricing gap is of retailers' own making. Online retailers' reactions to stock excesses resulting from covid disruptions was to flood the market with promotions, voucher codes and near-constant sales in 2022. The result is a consumer market that has been trained to expect discounts. But discounting to win conversions and revenue is profoundly at odds with 2023's new imperative: sustained profitable growth and loyal, engaged customers."

"Retailers will doubtless immediately assume that the solution is greater personalization, in the belief that tailored messaging and recommendations will drive more of the conversions they need. But this kicks the profitability can down the road and can be technologically complex to implement. Instead, retailers need to acknowledge what this pricing gap really represents: space to negotiate and find the win-win price point, where customers get the deal they want and expect, but retailers aren't racing to the bottom."
AI negotiation data and the pricing insights that 1-1 consumer conversations creates
Rosie Bailey, CEO and co-Founder, Nibble

"The added benefit of such an approach is that readily-available AI chat solutions enable retailers to enter into real-time, transparent discussions on price with every individual user – which gives retailers unique pricing insights and the confidence to redesign their entire annual promotional cycles to maximise engagement and profitability."

Kathleen Loftus, Global Digital Director,
Iconic London

Iconic, a global makeup brand, recently deployed Nibble across both their US and UK websites.

"Nibble's fun chats are in our brand voice and have delivered higher AOVs for lower discounts; most importantly, our customers love it. Unique insights from Nibble will continue to inform our promotional strategy for 2023, in which Nibble will have an important role."
Earlier this month, Nibble was named to CB Insights' Retail Tech 100 – the 100 most promising private retail tech companies in the world – and was hand-picked to join Shoptalk's Shark Reef: a showcase of the 12 best early-stage retail tech solution providers, who will pitch and compete at Shoptalk Las Vegas on 26th March for $100,000 investment from Shoptalk Ventures.
About Nibble
Nibble is the award-winning AI chatbot that lets brands negotiate 1-1 with every customer for an instant win-win deal to make both retailer and customer smile.
Nibble's automated and entertaining 1-1 negotiation has been proven to more than double conversion rates, measurably improve customer engagement and preserve margins.
Interested in Nibble?