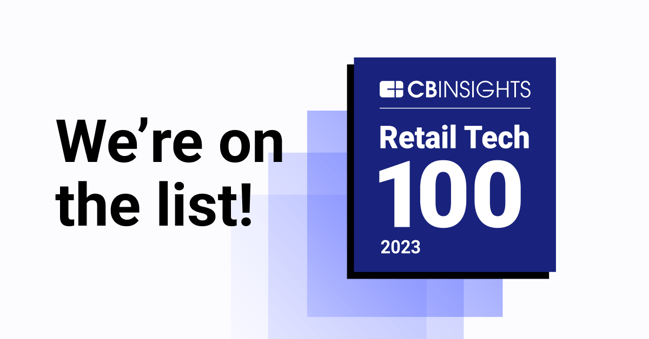 LONDON, March 14, 2023 - CB Insights today named Nibble, the AI negotiation chatbot, to its third annual Retail Tech 100, showcasing the 100 most promising private retail tech companies in the world.
CB Insights selected Nibble from a pool of over 7,000 private companies, chosen based on factors including R&D activity, proprietary Mosaic scores, market potential, business relationships, investor profile, news sentiment analysis, competitive landscape, team strength, and tech novelty.
"Brands' most pressing issue today is clearing excess inventory, and the CB Insights Retail Tech 100 reflects this: two of the largest groups are Digital Shopper Engagement, where we sit, and Merchandise Planning & Inventory Management," commented Rosie Bailey, CEO and co-Founder of Nibble.

"Excess inventory is a race. Find the highest price that customers will tolerate that secures the conversion and mitigates as much of the margin loss as possible, before the stock eats into margins.
"Excess inventory is today's greatest blocker to achieving sustained growth in retail. It is more than the cost of its storage and the delay to realising its value. It becomes a distraction for the marketing team, a frustration for operations, puts ESG ambitions at risk – and is increasingly a red flag to investors.
"The good news for retailers is that – as this year's Retail Tech 100 shows – the majority of innovation in retail tech is being focused in quickly-deployable, practical and proven solutions to the problem."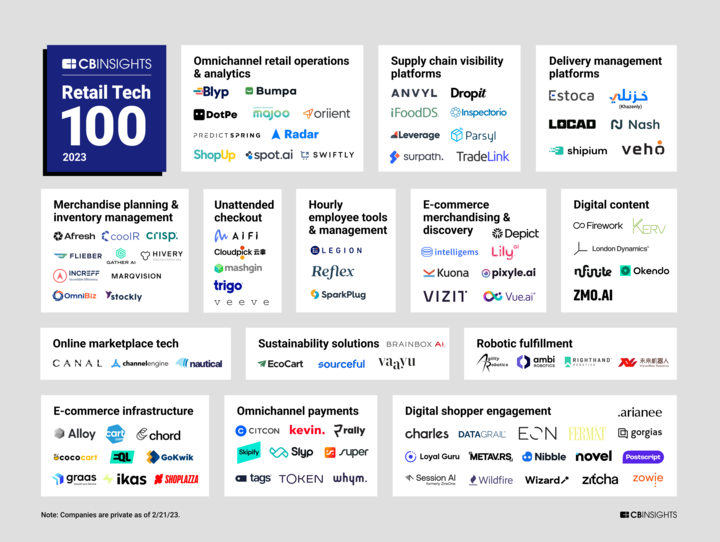 In just the last few months, Nibble has been deployed by multiple brands across Europe, North America, APAC and the Middle East, each of whom had been facing the problem of excess inventory and slow-moving stock – that their usual discounting strategies had not been able to solve without deep markdowns, excessive margin sacrifice and/or brand damage.
These engagements have already been proven to positively influence conversion rates, speed to clear stock, margins, customer engagement and AOV. See Nibble's latest case studies here.
"This year's Retail Tech 100 was more competitive than ever. Winners include early and mid-stage companies who are modernizing across areas such as store tech, e-commerce, loyalty & rewards, supply chain & logistics, and digital engagement," said Brian Lee, SVP of CB Insights' Intelligence Unit. "Through their efforts, this innovative cohort is empowering retailers with the technology to create more connected and personalized experiences, drive efficiencies, and improve profitability."
Quick facts on the 2023 Retail Tech:
Equity Funding and Deals: The Retail Tech 100 cohort has raised over $5B in equity funding across more than 500 deals since the start of 2019. In 2022 alone, winners raised over $3.1B across 106 deals.
Global Reach: This year's winners come from 20 different countries. Fifty-six of the selected companies are headquartered in the US. The United Kingdom comes in second with 6 and China and Australia are tied for third with 5 companies each.
Top Investors: Insight Partners is the top investor in this year's list. It has invested in 8 of this year's winners since 2019. Tiger Global is close behind with 7 companies, followed by Accel with 5.
About CB Insights
CB Insights builds software that enables the world's best companies to discover, understand, and make technology decisions with confidence. By marrying data, expert insights, and work management tools, clients manage their end-to-end technology decision-making process on CB Insights. To learn more, please visit www.cbinsights.com.
About Nibble
Nibble is the award-winning AI chatbot that lets brands negotiate 1-1 with every customer for an instant win-win deal to make both retailer and customer smile.
Nibble's automated and entertaining 1-1 negotiation has been proven to more than double conversion rates, measurably improve customer engagement and preserve margins.
Interested in Nibble?