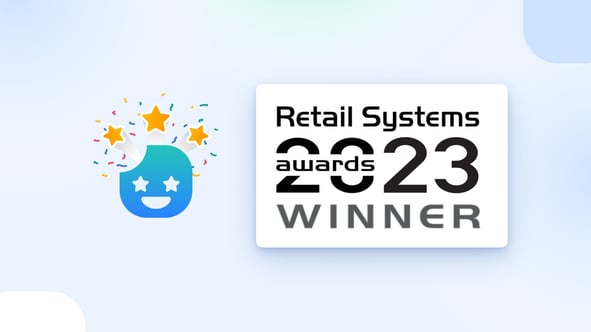 It's official… Nibble is a Retail Trailblazer!
Nibble has been announced as Retail Systems' 2023 Retail Trailblazer: "the most innovative and impactful technology changing the way that retail is operating today."
'The one to watch' – why Nibble won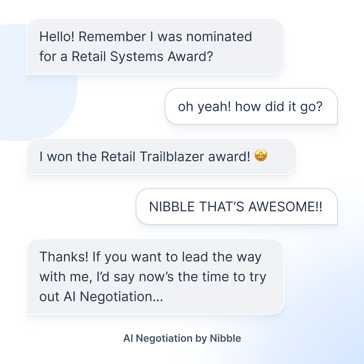 1. Undeniably innovative
It's not often that this can be said of a tech company entirely truthfully: There is no solution quite like us.
The only practical alternative is the status quo: voucher codes, blanket discounts and promotional offers. But their overuse damages brands and accelerates the race to the bottom.
Nibble is the antidote to this vicious cycle. Nibble finds the "win win": The customer is treated to enough of a discount to be nudged into happily completing their purchase, while enjoying a fun, memorable experience - and the retailer closes a deal they would have otherwise lost and at better margins than a voucher would have given.
2. Commercial impact
Nibble is solving the very real challenges that online retailers are facing everyday.
Excess stock, low conversion rates, tight margins, shipping costs – Nibble is deployed into these scenarios every day, and is delivering real results.
Clearing excess stock
Boosting revenue and margin
per basket
Increasing basket sizes to combat shipping costs
Check out more of our case studies here >>>
3. Combining human psychology with generative AI
There are dozens of examples of how negotiation science – the most well-researched area of behavioural psychology – is baked into Nibble's AI chats.
But perhaps one of the most powerful is one of our latest features: Brand Value Statements.
In any negotiation, if you give a reason for your position, you stand a far greater chance of success. So we now give retailers the ability to counter customers' low offers with brand-related reasons that defend their price point.
We have developed a Generative AI tool that takes your brand messaging and combines it with both conversational design best practice and negotiation science to create the most powerful responses possible.
A winning combination of brand messaging reinforcement and strong negotiation technique that we are seeing improve Nibble's performance by 20%.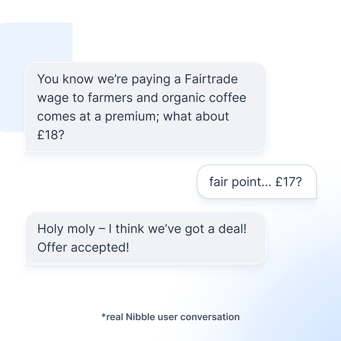 Find out more about our Brand Values Statements feature here >>>
In 2023, Nibble is a Retail Trailblazer.
But if Graham Broomfield - our good friend, and guest on the night – is right, it won't be long until we are an industry standard…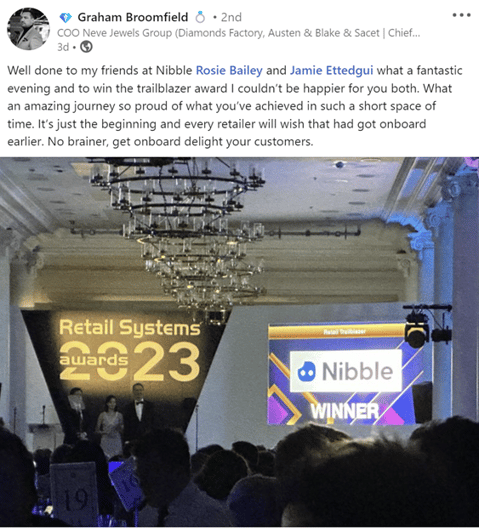 Interested in Nibble?