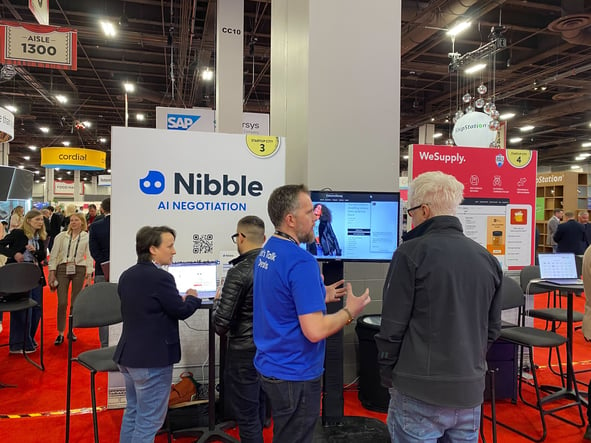 Planning your US conference schedule for next year? Head for the biggest, most advanced meetings program to ever exist in retail at Shoptalk. Trust me, you've never seen anything like it.
There are hundreds of eCommerce conferences in the US each year. Whether you're a retailer, an agency, or a tech provider, it's hard to figure out which one is right for you. But let me tell you, if there's one conference in the US you should be attending in 2024, it's Shoptalk.
What was so great about Shoptalk 2023?
Imagine over 2,000 one-on-one meetings happening simultaneously in a single room the size of more than five football fields! Meetings that are carefully orchestrated with a double opt-in that means the people sitting at each table have both said they actually want to meet each other.
This was Shoptalk Las Vegas 2023, the first year of the conference to introduce Meetup. It was open to all Shoptalk attendees at no extra cost and let you meet people you were genuinely excited to speak to in 15-minute meetings that kept things direct and efficient. Meetup ran throughout the conference, so if I wasn't attending talks, pitching on-stage, or exhibiting at the Nibble booth, I was in the Meetup area and I met exciting retailers from the US to New Zealand looking for innovation.
Shark Reef's 2023 showcase of 12 innovative tech providers (including Nibble)
Each year Shoptalk's Shark Reef showcases new and innovative technology from 12 carefully selected emerging eCommerce tools. Nibble was one of those tools this year, and we had the pleasure of pitching on-stage to judges from Coresight Research, VMG Partners, Commerce Ventures and M13. In 3 minutes (strict time limits made sure there was no faff!), I explained how Nibble can help brands avoid the deep discounting trap by talking to customers in their brand tone of voice – you can watch my pitch below.
Our experience at Shoptalk Las Vegas was nothing short of phenomenal. Visitors to our stand told us we were the most innovative tool at the entire show (multiple times!) We had dozens of exciting, engaged meetings with retailers and heard fascinating talks throughout a conference that puts thought-leader content front and centre.
Watching this pitch now brings back fond memories of Nibble winning the Audience Choice award at Shoptalk Europe 2022 in their innovation showcase. The Meetup programme has also since been launched at Shoptalk Europe, so if you are looking for a European conference to attend in 2024, I would recommend Shoptalk Europe if you can't make the Las Vegas show.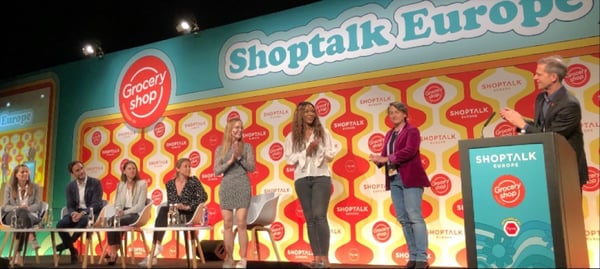 What's in-store for Shoptalk Las Vegas 2024?
Next year, Shoptalk promises to deliver an even greater Meetup programme that will host over 50,000 double opt-in meetings. They'll continue their focus on great content, this time covering more real consumer insights up on stage. I can't wait to see the lineup they put together – Nibble is already collecting unique consumer and pricing insights from shoppers and brands every single day. Rather than talking about what Gen Z theoretically want from brands, we need a conference that puts their real words and values up on stage in the spotlight for every industry to learn from. Shoptalk is the conference that has the vision to do this for the benefit of the whole retail community.
What next?
For insights on how consumer expectations match up to promotions in the ecommerce industry NOW, don't miss our next regular session of Nibble Table Talks, where we share behind the scenes data you need to know.
Or, look at what leading eCommerce experts have told us about how Brand Values are the most underused asset in PDP conversion – and how we can change that.
Interested in Nibble?