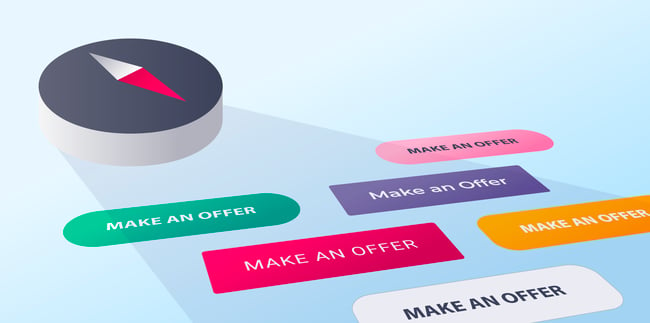 Online marketplaces that let people resell their unwanted clothes, tech, furniture, and more, have boomed in popularity over the last few years as more of us seek to improve our sustainability practices and—let's face it—grab a deal in the process. Most of these online marketplaces now incorporate some form of Make an Offer button that lets you negotiate a price for the thing you're interested in.
It's a handy button for both buyer and seller in marketplaces filled with products of debatable value, but all of these buttons have their own nuances and things to consider. We've taken a look at five of the biggest marketplaces and broken down how the Make an Offer button works on each – and at the end, we'll tell you who's the best. Let's get started.
eBay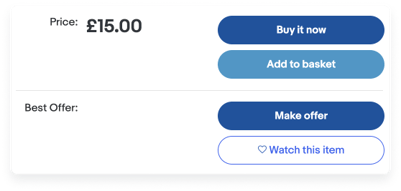 On eBay, each seller can decide whether they want to show the Make an Offer button. The language used on eBay is interesting, as the button itself is "Make offer" but everywhere else refers to it as "Best Offer", encouraging shoppers to skip the negotiation and jump to their best and final offer.
When you click the button, you're able to put in any price you like – eBay provides two suggested offers below if you're unsure what to offer manually. You can also include a message to the seller alongside your offer, which is useful and can really boost your odds of acceptance. On eBay, you can only offer on each item 3 times, so make your offer count.
Crucially, and unlike many other marketplaces, an offer on eBay acts as an agreement to purchase the item if your offer is accepted. If the seller accepts, you're instantly going to be charged and the item will be shipped to you, so only make offers you are willing to go through with.
Facebook Marketplace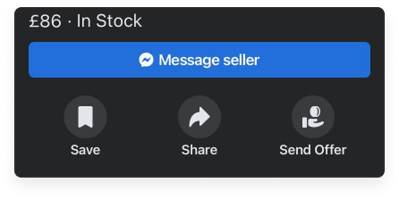 Like eBay, Facebook Marketplace lets sellers choose whether to display an Offer button, but frankly, every price on here is negotiable. To buy anything here, you need to engage in conversation with the seller – much to the horror of introverts across the world. A negotiators free-for-all, Facebook Marketplace can be an excellent place to strike a great deal locally if you're comfortable with a considerably more personal, involved purchasing journey compared to the likes of other online marketplaces.
Even if the seller does choose to use the Offer button, you are still ultimately taken into a one-on-one conversation. Clicking the Offer button gives you three choices: offering the asking price, offering 10% lower, or, perhaps unconventionally, offering 5% over asking price. You can also offer your own custom amount if none of these options are suitable. See our separate post on Facebook Marketplace for more tips on grabbing a deal on this more personal marketplace.
Tip: the offer button on Facebook Marketplace only seems to display in the mobile app, not on desktop. As such, browsing on mobile may give you more of an insight into whether the seller is open to offers or not.
Depop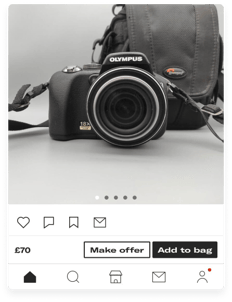 You can offer whatever price you want on Depop, unlike Vinted – more on that later. Depop's offer button is right there on the product page next to the "Add to bag" button. If the seller accepts your offer, you aren't committed or automatically charged – you've got 24 hours from when they accept to buy the item at your offer price.
Depop does give you a handy tip: offers 5-20% below the asking price are most likely to be accepted. But don't let that deter you from going in lower if the item has been up for a long time or is very overpriced. We have a full guide to negotiating on Depop for more tips on this.
Vinted
Vinted's Make an Offer button is strict – perhaps the strictest of the 'automatic' Make an Offer buttons we've seen. You can only make 5 offers per day across all items on the platform, and your offer must be better than 40% off the asking price, or you can't use the button.
These limits are intended to stop sellers receiving too many offers to look through every day – though in practice, it's debatable how well this works, as you can circumvent both of these limits by messaging the seller directly instead. Still, it's nice to see Vinted trying to find a way to stop sellers being bombarded with unrealistic offers. Our guide to negotiating on Vinted highlights more of the differences between Depop and Vinted.
Poshmark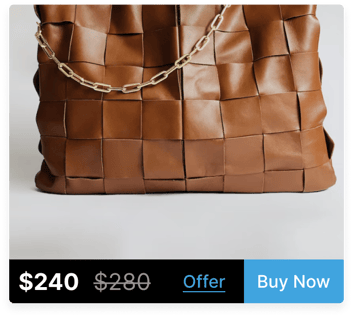 On Poshmark, you can use the Offer button to either offer on individual items or on bundles of products from the same seller, which is great for getting more of a discount. Poshmark lets shoppers offer whatever price they want, but it's important to know your offers here act similarly to eBay – the offer button is a commitment to purchase, so if your offer is accepted, you're going to get charged.
Interestingly, Poshmark also puts more power in the hands of the sellers, allowing them to send an offer to everyone who has liked their listing – and this offer needs to be at least 10% below the asking price. So, liking the listings you're interested in is crucial on Poshmark – you never know if it will lead to a discount later down the line.
Poshmark is currently only available in the United States, Canada, Australia, and India, but it's rapidly gaining popularity and is hoping to be available to more international customers soon.
Who has the best Make an Offer button?
Alright, I've got to let you in on a little secret now. Who has the BEST make an offer button out there? The button that's better than ANY other?
Have you figured it out yet?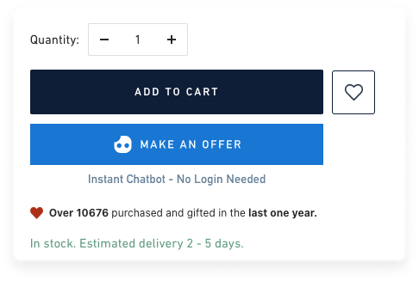 It's us. Nibble is the best make an offer button. Obviously.
Nibble is a smart negotiation tool that agrees a deal with shoppers in over half of the conversations it has. Gone are the countless back-and-forth negotiations for hours, even days, while you hope to both be online at the same time. Nibble negotiates a complete deal in under a minute. And it does this all at scale, too, handling over 50,000 negotiations every month with shoppers across the world.
Nibble's not reserved for second-hand marketplaces – retailers of all shapes and sizes are using Nibble on their online stores. It's been proven to measurably improve conversion for retailers by 50%, makes deals at better margins, improves engagement, and makes people smile with win-win deals for everyone involved.
Look out for retailers offering Nibble on their site and take your opportunity to negotiate a great deal quickly. Until some of the largest resale marketplaces adopt Nibble… You'll have to make your offer and wait around for someone to get back to you.
Interested in Nibble?