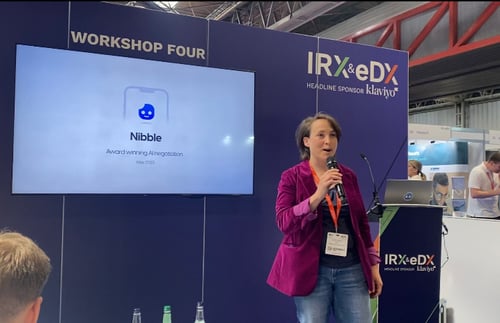 IRX 2023 in Birmingham earlier this month was a roaring success for Nibble's AI Negotiation technology.
Across both days, we ran workshops on how AI Negotiation has helped DTC brands from a variety of industries—including furniture, beauty and apparel—improve their margins, boost AOV, and connect with their customers. If you couldn't catch the entire workshop, there's a preview for you right here. Want to see the full recording? Just get in touch with us.
During our workshops, we also demonstrated our newest feature powered by generative AI: Brand Value Statements. They remind your customer of the reason they are shopping with you at the exact moment they need to hear it the most. You can read more about this feature in our Brand Value Statements launch article.
IRX attendees came to the show looking for innovation, and they found it at our booth. But don't just take our word for it...
"This is one of those ideas that's going to transform the whole purchasing experience. It's amazing."
The impact we were demonstrating on conversion rates, margin protection and customer engagement got retailers excited and invested in the capabilities of what AI can do for them. Much like how AI was the dominant theme of NRF New York in January, retailers' perception of this technology has shifted from uncertainty to excitement over the past couple of years.
Retailers' challenges are intensifying. They are under pressure from consumers' increasing price sensitivity, surplus stock eating into margins and increasing competition. Innovation is needed to stand out and escape the discounting trap. eCommerce Strategy Consultant James Gurd summed up our message at the show nicely...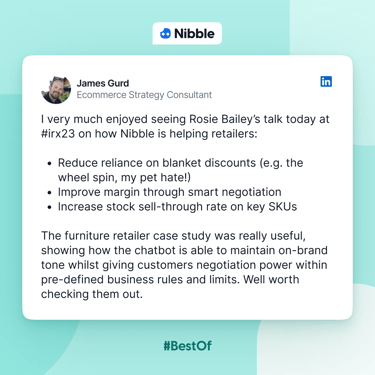 Nibble's success at IRX comes after being named a two-time finalist in the Retail Systems Awards 2023 – nominated for both Retail Trailblazer and Point of Sale Technology of the Year. Winners will be announced 29th June – wish us luck!
What Next?
If you missed the workshop at IRX and want more insights, join our LinkedIn Audio Event on 22nd June to learn how 3 DTC brands kick-started sustainable profit growth.
Or, catch our next session of Nibble Table Talks on 13th June for data and pricing insights unique to your industry thanks to AI Negotiation.
Interested in Nibble?